My dad used to make the best chili around and gave it to all the neighbors and they loved him for it.  About a year before he died, he showed me his secret recipe for "Big Paul's Chili".  It was always ever changing since he loved to experiment with different ingredients and finally he had made it vegan!  Since then I've brought it here and there and it's won awards for "Best Vegetarian Chili" and has been loved by many.  This recipe makes a large pot that will feed a big family for a couple of days.
Spicy Factor
2 out of 5 peppers (mild/medium)
Ingredients
3 bell peppers, chopped (yellow, red, orange, or green)
2 medium onions, finely chopped
2 carrots, chopped
3 celery ribs, chopped
2 jalepeno peppers, minced
8 (15 ounce) cans tomato sauce
1 (28 ounce) can crushed tomatoes
6 garlic cloves (or half a bulb), minced
1/4 cup maple syrup (or brown sugar)
5 (1 1/4 ounce) packets McCormick Chili Seasoning
2 T chili powder
1 tsp black pepper
1 T molasses
4 (15 1/2 ounce) cans dark red kidney beans
1 (15 1/2 ounce) can black beans
2 (6 ounce) cans black olives, sliced in half
2 T lemon juice (or juice of 1 small lemon)
1 package Smart Ground Soy Crumbles (optional)
Garnish
green onions, chopped
crackers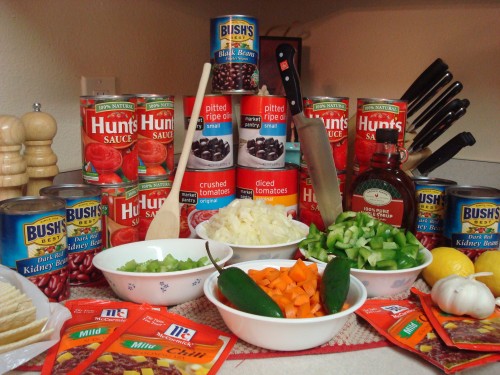 Directions
1)  In a large pot over medium-high heat put about half a cup of water, onions, carrots, celery, and bell peppers and cook stirring occasionally until slightly soft for about 15 minutes.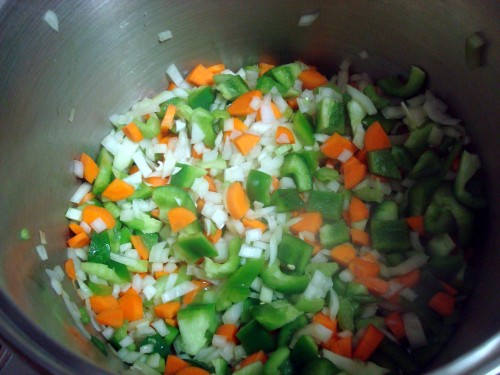 2)  Add cans of tomato sauce, crushed tomato, garlic, chili seasoning, chili powder, black pepper, maple syrup or brown sugar, molasses, and stir until all ingredients are mixed well and have heated up.
3)  Reduce heat to medium, add kidney beans, black beans, black olives, and optional Smart Ground Crumbles. Simmer for 30 minutes to an hour uncovered, stirring occasionally to heat through.
4)  Add lemon juice and stir through.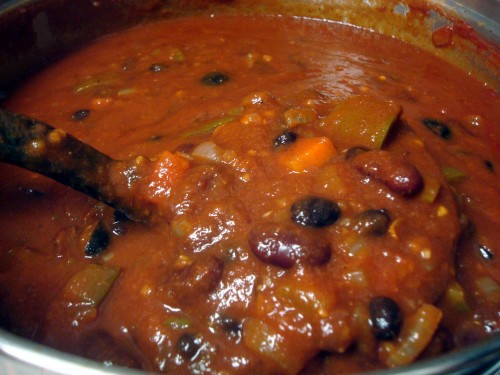 5)  Serve with an optional garnish of green onions and crackers or crisp French bread.  Enjoy!
Tags: vegan chili recipes