It's always a little sad when you're on vacation and there's this nagging little thought in the back of your head telling you that soon your trip will be over.  This was the final day in the Blue Ridge Mountains and we wanted to fit in as much as we could before we left.  Today's agenda called for horseback riding in the mountains and some more hiking!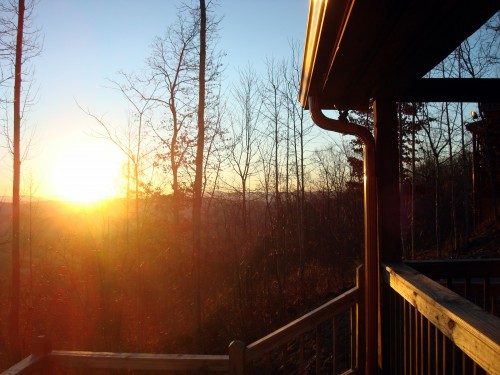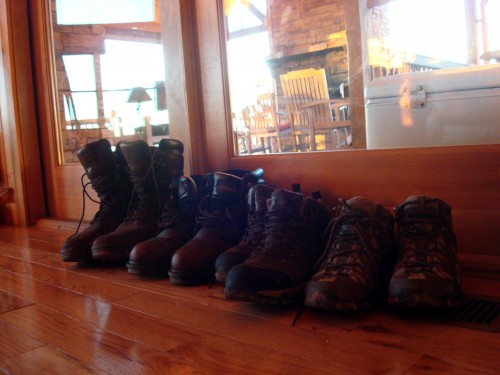 I woke up and all I could hear was loud whistling through the third story porch.  It was definitely cold outside and I knew I'd have to dress warm since we'd be out in the 30 degree weather for a couple of hours horseback riding.  My cold was doing much better but I woke up with a strange little sick feeling.  I figured it would pass so I got up and had a good breakfast with Sarah and Andre, then headed down the mountain to find Blanche Manor horseback riding in Blue Ridge.
We snaked down the winding roads passed many other cabins and descended through the clouds.  At the bottom we could see the white frost on the grass and as we passed nearby farms, there were horses grazing on hay.  I was in the passenger seat and the more we drove along, the more I had this feeling that just wouldn't go away.  I had always been carsick as a kid, but eventually that had passed as I got older.  We were trying to find this place and would pass a street, quickly back up into a driveway and swing around to go.  All I could think at this point is "Oh no…".  We were about take off again after pulling in front of a business with gravel pavement and I just yelled out "Wait!  Wait!", opened the door and BLAH!  It's amazing how much better you feel after something like that.  I took a few drinks of water and got off the cold gravel and we were finally on the right track.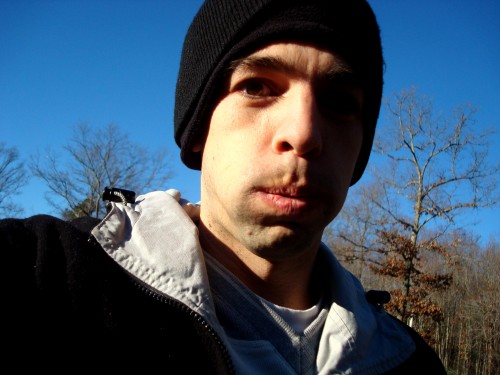 It had been probably a couple years since I had last been horseback riding in the mountains, but it's not something that you forget how to do.  The girls at the front greeted us and showed us the way to the horses that would be taking us on some nice trails.  Buckshot and Blue were their names – beautiful majestic horses with plenty of power to carry us up and down hills and through the cold Georgia mountain streams.  Since we had gotten there earlier than everyone else, we were fortunate enough to get our own private tour!  A smiling young girl named Kaitlin guided us through acres of trees and hills.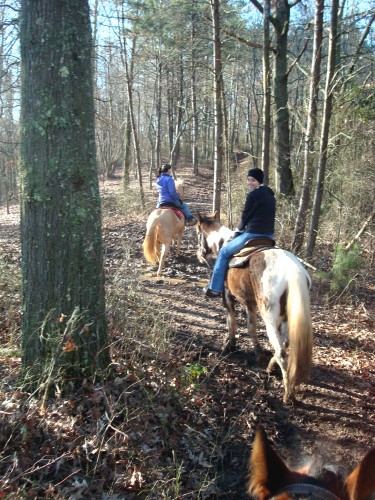 We also had one of the biggest white dogs I've seen in my life tagging along for the walk.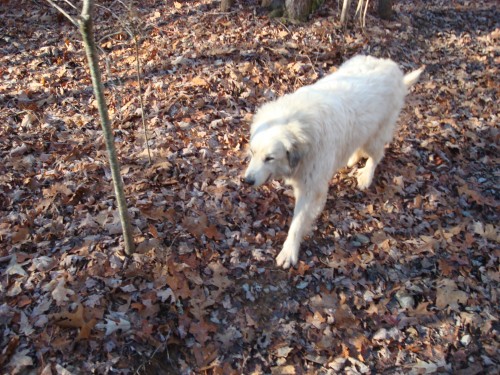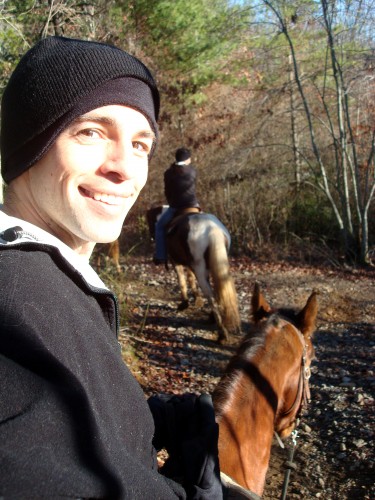 While riding, we noticed these perfect looking steps in some of the uphills on the mountain and asked Kaitlin about them.  We figured that maybe they had carved those out for the horses to make it easier for them?  Apparently not.  The horses walked so frequently on these uphills that after a while they actually carved the steps out themselves!  I would've never guessed.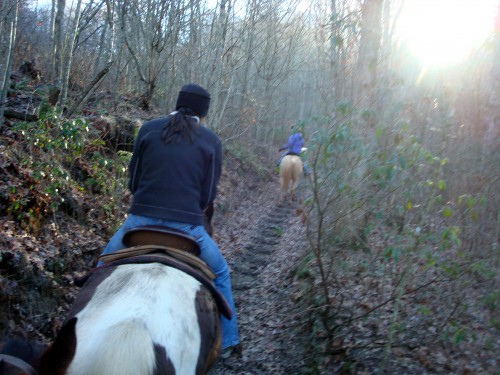 At one point midway on the trail and at the very top was an area they called "The View".  From that one spot you're able to see three states at one time – North Carolina, Georgia, and Tennessee!  You can also tell that it was pretty cold since the grass behind us still had frost on it.  Good times!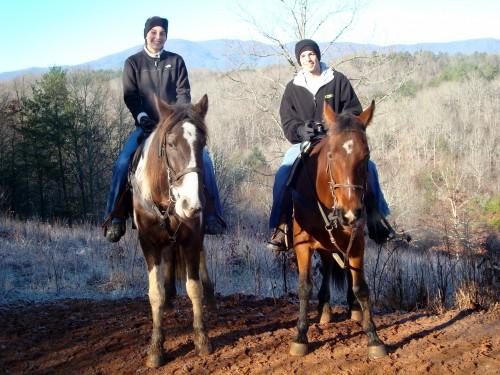 Sarah wanted to thank Blue for the ride so she asked if she could brush him.  I'm sure it was much appreciated!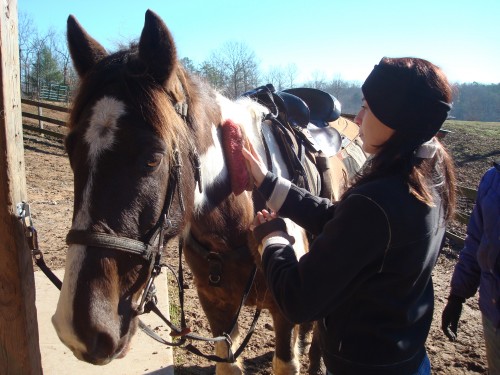 Finally as we were leaving Blanche Manor, we thanked everyone for the great time we had riding the horses and then Sarah ended up making a little cat friend that didn't want to leave her side.  Good thing it didn't want to be picked up or else I'm sure Sarah would've wanted to take her back to Florida.  Lol.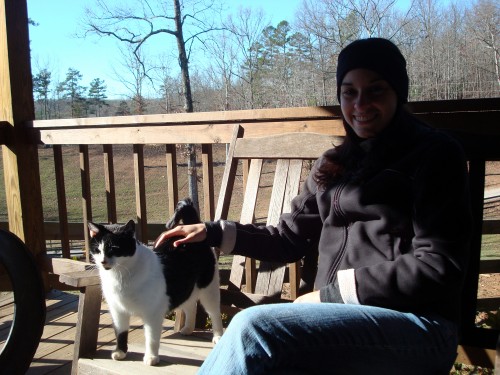 I'd have to say horseback riding in the Blue Ridge Mountains in Georgia has to be one of my favorite memories that I love to look back on and daydream about.  It's an experience of being free in the wilderness and taking a step back in time where you can let all the cares and worries you have go.  I'd come back here year after year if I could!
Tags: Blanche Manor, Blue Ridge Mountains, Georgia, horseback riding