If you want to be treated like a VIP this year then go to Walt Disney World!  Why?  They have a special deal where you can get into any one of the four Walt Disney World parks for free on your birthday!  All you have to do is go online and register your birthday on their website, print out the certificate, and show up on the day of your birthday to get in free!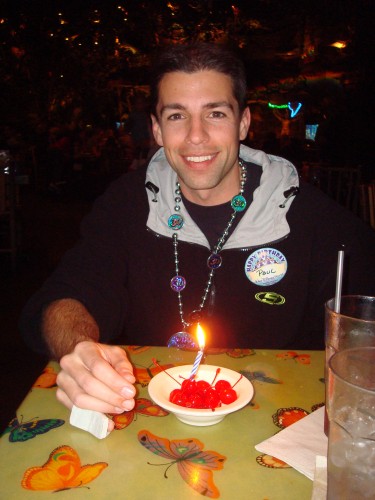 I have to say, this is one company that truly knows what service means.  It all started when I showed up at the park.  Sarah and I arrived at Animal Kingdom at the time the park opened and I brought my printed birthday admission certificate from their website to the Will Call booth.  The lady there greeted me very cheerfully, explained everything, and the key to this VIP day was that she gave me a birthday button with my name on it.  I didn't think too much of it at first but as I went throughout the park, all Disney cast members that I came across excited told me "Happy Birthday!" or "Happy Birthday Paul!"  Haha!  It was great.  The entire day I really felt like a celebrity and from 9am to 5pm we probably counted from 30 to 40 birthday wishes.
Being vegan, I had to use this to my advantage.  At the Rainforest Cafe, when I talked to the waitress, Sarah and I kept asking the ingredients in this and that and finally she says "Oh!  Well just to make sure I'll bring out the chef!"  I've never had that happen in any restaurant before.  So if you're vegan and it's your birthday, go to Disney and wield some power for a day!
Tags: Disney, Walt Disney World