After relishing in the incredible experience of Amicalola Falls, we finally departed for our original destination!  Just after midday and way too much time of sitting in the car, we had arrived at the cabin:  Blue Ridge Mountains, Georgia!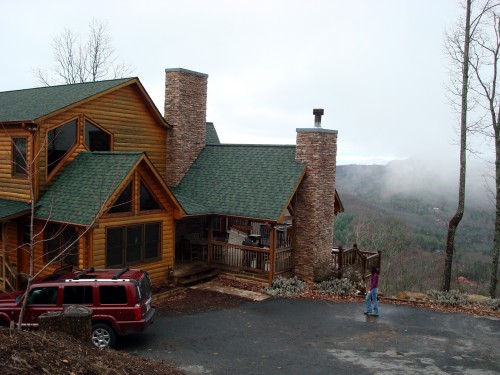 There's much to be said about Blue Ridge…  It's part of the Appalachian Mountains.  Georgeous views.  Peaceful.  Serene.  And let me add in some parts, HIGH!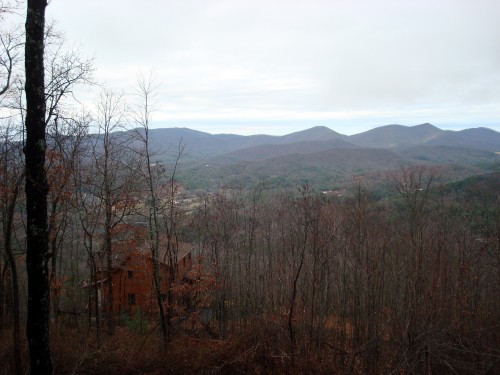 The ascent from the base of the mountain to the summit where our cabin was located was not for the faint of heart.  It was literally even with the clouds!  I guess that's why it was was nicknamed the "High Five" (five meaning five bedrooms).  It took a good amount of time just to get up those steep inclines with no guard rails whatsoever.  Some of the driveways seriously looked like about a 45 degree slope up to each cabin, but ours however, was scary in a different way.  After going all the way up the mountain, we had to dip sharply down the driveway so it appeared as if we were going to just drive right off the cliff!
After settling down from the climb, we unpacked and started to realize just how beautiful the view was at the top.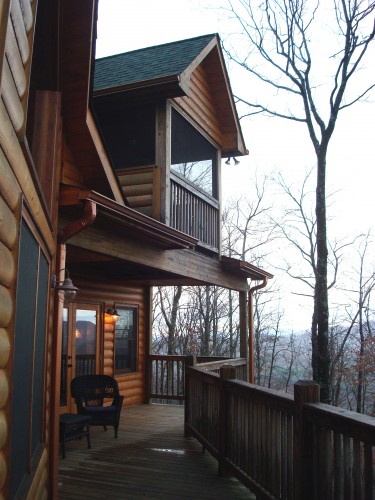 This cabin was loaded and had it all:
five bedrooms (most with views)
3 balconies
3 fireplaces (2 indoor, 1 outdoor)
a huge kitchen
wireless internet
3 living rooms with tvs
a pool table
the best views
and even a hot tub
I'm telling you, if you want a great time at a comparable price to a hotel, rent a cabin for a few days!  The only warning that I will give you when it comes to renting cabins is that their rule list of what you can and can't do and what you must do after leaving is very long.  They will charge you for everything under the sun from cooking marshmallows in the fireplace, not taking out the trash, putting all the laundry away, cleaning… you name it and they'll charge you for it if you're not careful.  I'm guessing that's how they keep their rental costs low.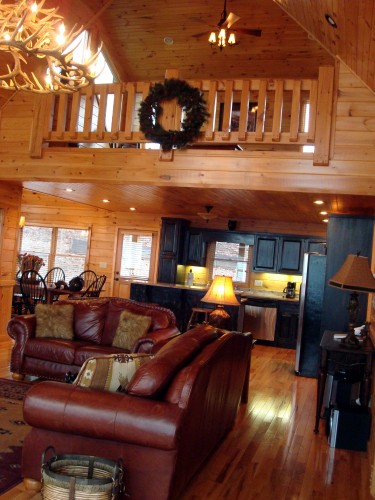 The only things that weren't so great were the subtle hints that only a vegan would cringe at (like this stuffed raccoon):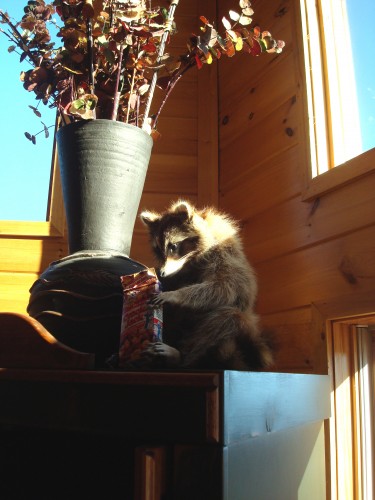 Other than that, there doesn't seem to be words enough that could describe the experience of being in a cabin high on a mountain in the woods until you experience it for yourself.  But if I were to try, I'd probably say that it's peaceful, romantic, adventurous, detached, soothing to your eyes and ears, and just all around I'd say it's FUN!
As night began to fall, Andre lit the fireplace outside on the porch and we marveled at how great it was to be there.  The next day, we'd venture out into the town and find some trails to hike!
Tags: Blue Ridge Mountains, cabins, Georgia